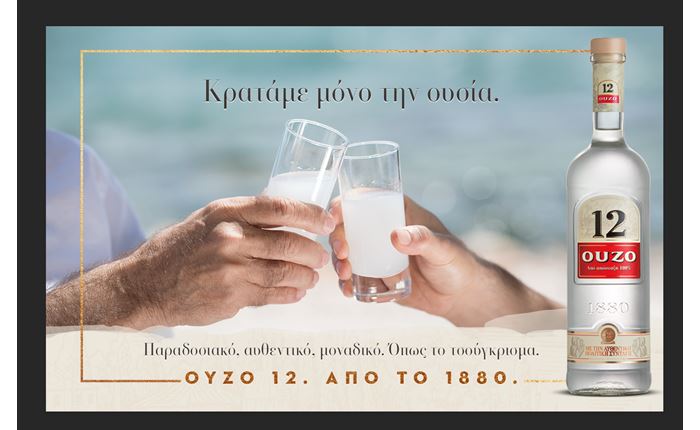 Merika Ouza, the Greek Summer, Callas and Socrates
This is a gallery of two delightful moments of inspiration. You get a fat Cohiba cigar and a glass of ouzo. You lit the cigar and you add on two rocks, then you have "smoky water". First, the rising smoke of the cigar, and after, the inspiration will start flowing. The Greek-American inspiration will say "Cheers Mr Producer MGTVUSA" and it will take you, all the way to Greece. Soon you realize that, the inspiration sat next to you when you looked deep into the lower half of an ouzo bottle. After a while, the words of the language, resemble big midnight-stars, resemble the idyllic Greek islands of the Aegean and Ionian Seas. The eternity of the Greek summer, talks loudly to you like unprecedented inspiration, via the larynx of a female cockerel. Then, one more glass of ouzo! Dipping the pen into the inkstand, the movement, is like a melody from the accordion. And, the ink you need for the activity of writing, is a dose of poison "delivered to us", here in America, from ancient Athens. It's winter time here, soon will be summer time in Greece. The meridian sun-light, helps the search for eternal wisdom and the summer there, is a State of Mind. And, merika ouza of course!
The summer inspiration about the Larynx of Maria Callas:: When you hear a cockerel, you say, "Good God, what a fine cockerel that is, how wonderfully he crows!" Maria Callas was a female cockerel.
Her larynx was the reason for her perfection as a singer. She possessed notes that were those of a violin, of a guitar, of a saxophone. It was as if her voice was, for her, a wishing well, into which she threw gold coins.
Her larynx began from the great warehouse of creation where all larynxes are created. It became the most cerebral but wild of all larynxes, so much part of Callas' being that it was totally under, yet beyond her control; indeed part of her brain. Her voice toppled buildings. It was a voice that made not only humankind but also mountains, seas, trees, flowers, forks and giraffes bow down. Her larynx had the ability to ascend a staircase on its own. Her voice had the effect of shifting planets out of their orbits. God twirled the clouds and the ether in heaven in response. God made the Greek summer too.
Every cell in her larynx had been awarded a doctorate, while Onassis' spermatozoa were busy studying for a bachelor's degree. Her larynx preened itself and sat up straight before she opened it and when she spoke in a normal voice it was as if one was listening to both military marches and church hymns at the same time. Her orgasmic moments resembled the Funeral Speech of Pericles. Her larynx was a tenth, Dionysian muse (the Greek summer muse).
One wonders if the sound of her everyday speech issuing out of her and hitting the wall (it must have produced such a magnificent aria) did not begin to make her larynx feel jealous. When Callas died in Paris scientists were very interested in examining her larynx but were specifically forbidden from doing so by the dictates of her will. Her laryngeal genes had the structure of an amplifying honeycomb. She raised her voice in Italy and all London listened to her. Her voice still reverberates in the ether of the Greek summer. Her larynx still, after all automatically adjusted her intake and out-takes of breath.
The summer inspiration about the Poison of Socrates:: Socrates drank his cup of hemlock, during the Greek summer. With him both his philosophy and his truth drank poison. One wonders what the cost of such poison was at that time? But, in any case, the Athenian state was ready to pay, whatever the price.
Let us imagine that Socrates' poison was poured into a simple terra-cotta beaker, shards of which lie nowadays for tourists to trample on as they walk around the Agora in Athens, but he knew that it was the contents of the cup and not the cup itself that mattered. He considered it as some humorous liquid. He thought with cynicism, (by the way the Cynics had not yet arisen as a school of philosophy; but Socrates managed to think cynically before the creation of cynicism) "While I am dying, I'll write my first text; my death will be a piece of my life-work; what good luck it is to drink it, at least I'll always be famous". Yes! To decide to die, when you can escape and enjoy the Greek summer, are public relations. Maybe this is why someone said that Socrates is the Lenin of antiquity. And in the end, the downfall of the Soviet Union was caused by its public relations apparatus being seen as a dose of poison for the ordinary populace. But in any case, before he drank it, Socrates for sure had a little discourse with his poison, maybe from sheer egoism as he wanted to teach it something or because there was no one else in the room to talk to, not even a good-looking young male nurse to hold his hand in his last dying moments.
Almost as soon as he drank it, his eyes will have glazed over, as do the eyes of a bull when confronting the red cloth of a matador. One of his eyes resembled that dot of light we see when a television is switched off while his other, well, it was like a computer being switched on. The password for the program in Socrates' brain will never be known.
Socrates' poisoning was a tragedy for Plato and for his ideas on politics, ethics and the issue of trust in the democratic process. Plato's views were poisoned. Yet, always each philosopher contains the reaction to his work within his own writing; each has to receive a rebellion from the next generation. But at least the horror of Socrates' death set Plato writing. Such a clever little dose of poison it was that pushed so many philosophers to pick up their pens and write to build up a wall of works, to be a bulwark against their suffering the same fate as Socrates. Maybe in a way he is still standing all philosophers "from his time to ours" a little sip of his hemlock.
The poison of Socrates was the price that Wisdom paid. Wisdom fully developed in the works of Plato, and above all, Aristotle. Thus today, Greek summer isn't only Sun, Sea, Ouzo, Beer, and Islands, but also Ideas. Summer Greek Ideas, turn into, the Eternal American Ideas of the United States of America.
From the MGTVUSA Newsroom